When installed right, a glass shower enclosure can bring your bathroom to life. Our team of licensed and insured Martinsville plumbers are specialized in shower door installation. Every year we send a crew to attend a class conducted by Basco Shower Enclosures at their Ohio facility. We've even constructed a display unit in our remodel showroom located at 435 W. Morgan St. Continue reading to learn more about our shower door installation services!
Our crew of specially trained plumbers are prepared and ready to meet your bathroom remodel shower door needs today!
Why Choose Basco Shower Enclosures?
There are many reasons we've chosen to stand behind the Basco line of shower enclosures. For starters, Basco makes it easy to order custom sizes and fits. Our customers' needs vary from home to home, and Basco understands how important it is to provide custom fits in order to meet our wide range of bathroom remodel needs.
Secondly, Basco Shower Enclosures come with an industry-leading lifetime warranty. Warranties are important to us here at Hudson Plumbing because it means peace of mind. It's important our customers are 100% satisfied every step of the way. A lifetime warranty means their shower door investment will be protected for the long haul.
Lastly, Basco enables our team to be true shower door installer professionals by offering specialized training at their Ohio facility. Here our technicians get hands-on training and walk away with a certification showing what they've learned.
Estimated Time to Install a Shower Door?
Shower door installation times vary from job to job. The good news is that Basco manufacturers doors based on the customer's specific needs. By designing custom sizes and shapes at the factory, this significantly reduces the amount of time it takes to install the door on-site. Homeowners and contractors can typically expect to spend 2 – 4 hours of installation time.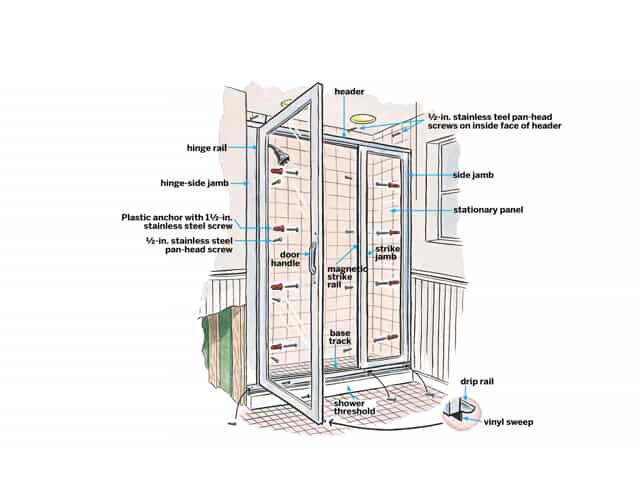 Why Hire a Professional Contractor?
While skilled DIYers might have no trouble installing a custom shower enclosure, those with less experience and/or time will greatly benefit from enlisting the services of a plumbing contractor. Both glass shower doors and frameless doors are heavy and awkward, and therefore difficult to maneuver. Specially trained licensed plumbers are experienced to ensure customers' doors are well-secured, anchored, and properly installed.
How Much Does it Cost to Install a Basco Shower Door?
The cost to install a shower enclosure in the Martinsville, Bloomington, and Greenwood areas vary depending on the needs of the project and the material used. For example, sliding glass doors with a rubbed bronze finish can range from $350 to $700. A custom frameless shower door can cost anywhere from $750 to $1,000. We recommend getting at least three quotes from licensed and insured plumbing professionals in your area before starting a remodel project.
HOW CAN WE HELP YOU PICK YOUR SHOWER DOOR DESIGN?
We invite you to visit our plumbing remodel showroom at 435 West Morgan Street in Martinsville, Indiana. We'll walk you through your Basco Shower Enclosure options and help you determine what's the best fit based on your needs and budget.